DOI:
https://doi.org/10.7203/imago.6.4115
Los fundamentos de la visualidad de la Prudencia
Resumen
ABSTRACT: Prudence, as one of the cardinal virtues, is a theme that has been dealt with by numerous thinkers ever since Antiquity. Its broad treatment with regards to different aspects, such as time, governance, selection or advice, has been the object of many visual representations, which show a great variety of attributes, the foundations of which we find in written sources.
KEYWORDS: Prudence, Cardinal Virtues.
RESUMEN: La Prudencia, como parte de las virtudes cardinales, ha sido tema a tratar por diferentes pensadores desde la Antigüedad. Su amplia consideración, en relación a diferentes aspectos, como el tiempo, el gobierno, la elección o el consejo, ha sido fruto de numerosas representaciones visuales que muestran gran variedad de atributos, cuyos fundamentos encontramos en las fuentes escritas.
PALABRAS CLAVES: Prudencia, Virtudes Cardinales.
Palabras clave
Prudencia; Virtudes cardinales; Iconografía
Enlaces refback
No hay ningún enlace refback.
URL: http://ojs.uv.es/index.php/IMAGO
Administración: C/ Universitat, 2 · 46003 Valencia.
M.Elvira.Mocholi@uv.es, Elena.Monzon@uv.es, mahiques@uv.es
ISSN digital: 2254-9633 / ISSN impresión: 2171-0147
MÉTRICA EN SJR BASADA EN SCOPUS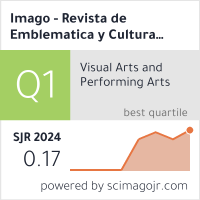 INDEXACIÓN