DOI:
https://doi.org/10.7203/imago.5.3028
Laurentius Lotus [Lorenzo Lotto]. De Amore
Resumen
ABSTRACT: In the study presented here of some portraits by Lorenzo Lotto, I have attempted to establish a reading of the image, of the details that the artist offers us in his canvas which, to my way of thinking, orient us towards the semantic meaning of the painting. In this concrete case I deal with the theme of love. This entails, therefore, an in-depth exploration of the story that the artist wishes to consider through his work, with the aim of recording and classifying the image by analyzing both its graphic as well as literary precedents.
KEY WORDS: Lorenzo Lotto, Portrait, Love, Allegory, Iconography.
RESUMEN: En el estudio presentado aquí sobre algunos retratos de Lorenzo Lotto, se ha tratado de establecer una lectura de la imagen, de los detalles que el artista nos ofrece en el lienzo y que, a nuestro parecer, orientan el sentido semántico de la pintura. En este caso considerando el argumento del amor. Supone, por lo tanto, adentrarse en la búsqueda de la historia que desea considerar el artista a través de su obra y, todo ello, en función de historiar la imagen analizando sus precedentes tanto gráficos como literarios.
PALABRAS CLAVES: Lorenzo Lotto, retrato, amor, alegoría, iconografía.
Enlaces refback
No hay ningún enlace refback.
URL: http://ojs.uv.es/index.php/IMAGO
Administración: C/ Universitat, 2 · 46003 Valencia.
M.Elvira.Mocholi@uv.es, Elena.Monzon@uv.es, mahiques@uv.es
ISSN digital: 2254-9633 / ISSN impresión: 2171-0147
MÉTRICA EN SJR BASADA EN SCOPUS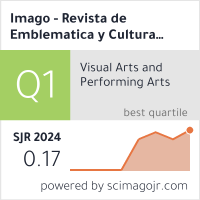 INDEXACIÓN