DOI:
https://doi.org/10.7203/imago.12.17714
Máquinas de la memoria: Emblemática y Semiótica / Memory Machines: Emblematics and Semiotics
Resumen
ABSTRACT: The relationship between word and image has been researched from different theoretical perspectives. The emblem, as a hybrid textual type, has been approached from the perspectives of iconography and epigraphy in the analysis of the variety of genres derived from the triplex model, like the heavily codified languages of mute emblems and baroque hieroglyphs. The rhetorical procedures and traditions involved in the production and reception of these symbolic machines utilize the exemplum and the allegory, going through the progymnasmata, as the main strategies in the connection of iconic and verbal representations.
The purpose of this work is to describe the emblem from a semiotic point of view and explore the relationship between emblematics and the theatres of artificial memory as categories that allow the explanation of the complex interdependence between the visual and the verbal in its mnemotechnical function, where the effectiveness of the repertoire of symbol is built in museums of the imaginary. This takes the visual grammars of semiotics as well as the anthropology of writing as a starting point to propose a generative model of reading.
KEYWORDS
Emblematics; Semiotics; Symbolism; Hieroglyph; Memory.
RESUMEN: La relación entre palabra e imagen ha sido estudiada desde distintas perspectivas teóricas. En el caso del emblema, como tipo textual híbrido, se ha abordado desde la iconografía y la epigrafía en el análisis de la variedad de géneros derivados del modelo triplex, como los lenguajes altamente codificados de los emblemas mudos y los jeroglíficos barrocos. Los procedimientos retóricos y tradiciones implicados en la producción y recepción de estas máquinas simbólicas tienen como principales estrategias el exemplum y la alegoría pasando por los progymnásmata, en la conexión de representaciones icónicas y verbales.
El propósito de este trabajo es caracterizar el emblema desde el punto de vista semiótico y explorar la relación entre la emblemática y los teatros de la memoria artificial como categorías que permiten explicar la compleja interdependencia de lo visual y lo verbal en su función mnemotécnica donde la eficacia de los repertorios de símbolos se erige en museos del imaginario. Lo anterior a partir de las gramáticas visuales de la semiótica y de la antropología de la escritura para proponer un modelo generativo de lectura.
Palabras clave
Emblemática; Semiótica; Jeroglífico; Memoria
Enlaces refback
No hay ningún enlace refback.
URL: http://ojs.uv.es/index.php/IMAGO
Administración: C/ Universitat, 2 · 46003 Valencia.
M.Elvira.Mocholi@uv.es, Elena.Monzon@uv.es, mahiques@uv.es
ISSN digital: 2254-9633 / ISSN impresión: 2171-0147
MÉTRICA EN SJR BASADA EN SCOPUS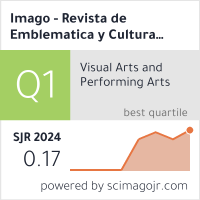 INDEXACIÓN