DOI:
https://doi.org/10.7203/imago.10.13290
Entre el cielo y la tierra. Naturaleza antropomórfica en la obra de Victoria Cano
Resumen
ABSTRACT: In 2016, an anthological exhibition of the work of the painter Victoria Cano was held at the Centro del Carmen in Valencia. The exhibition was entitled Ecos y huellas.Desde el Trastevere al Carmenand it was sponsored by the Consorci de Museusde la GeneralitatValenciana. It brought recognition to the long and distinguished career of one of the best contemporary Spanish artists. Victoria Cano's talent allowed her to enjoy a two-year research scholarship at the Academia Española de Bellas Artes de Roma in the early 80's. During her stay (1981-1983), Victoria Cano was the only woman to be awarded the scholarship, the rest of students were all men. Cano earned a PhD in Fine Arts (1988) and shortly after was named Professor at the School of Fine Arts in Valencia. Since 1988 her career trajectory has included a multitude of national and international shows. Her works have been exhibited in China, South Korea, New York, Murano, Milan, Rome, Berlin and Bangladesh. We met the artist at her studio, interviewed her and studied her work. This article aims at reviewing the fundamental milestones of her artistic itinerary and revealing the essence of her artistic production.
KEYWORDS: Victoria Cano; Footprints; Senses; Nature; Environment; New Technologies; Human Beings; Gender Violence; Profiles; Roots; City.
RESUMEN: En 2016 tuvo lugar una exposición antológica de la obra de la pintora Victoria Cano en el Centro del Carmen de Valencia titulada Ecos y huellas. Desde el Trastévereal Carmen. Promovida por elConsorci de Museus de la Generalitat Valenciana, la exposición supuso el reconocimiento a la larga trayectoria de una de las mejores artistas españolas contemporáneas. El talento y la labor de producción e investigación de Victoria Cano le permitió disfrutar a principios de los 80 de una beca de pensionado de dos años en la Academia Española de Bellas Artes de Roma. Destacar que durante su estancia (1981-1983) fue la única mujer pensionada, el resto de compañeros eran hombres. Doctora (1988) y Profesora titular de la Facultad de Bellas Artes de Valencia, desde 1988 su trayectoria se ha consolidado por multitud de exposiciones nacionales e internacionales con obra en instituciones públicas y privadas de medio mundo. El presente artículo es fruto de una larga entrevista en la que, en diálogo con la artista, repasamos los hitos fundamentales de su trayectoria artística y la esencia de sus creaciones.
PALABRAS CLAVES: Victoria Cano; huellas; sentidos; naturaleza; medio ambiente; nuevas tecnologías; ser humano; violencia de género; perfiles; raíces; ciudad.
Palabras clave
Victoria Cano; huellas; sentidos; naturaleza; medio ambiente; nuevas tecnologías; ser humano; violencia de género; perfiles; raíces; ciudad.
Enlaces refback
No hay ningún enlace refback.
URL: http://ojs.uv.es/index.php/IMAGO
Administración: C/ Universitat, 2 · 46003 Valencia.
M.Elvira.Mocholi@uv.es, Elena.Monzon@uv.es, mahiques@uv.es
ISSN digital: 2254-9633 / ISSN impresión: 2171-0147
MÉTRICA EN SJR BASADA EN SCOPUS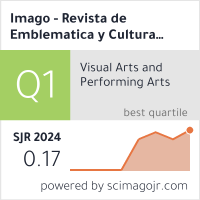 INDEXACIÓN